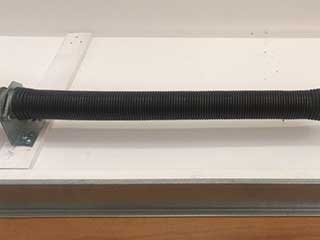 Automatic garage doors have motors to get them moving, but the real work in opening and closing them is up to the springs. The springs provide a counterforce for the garage door's weight, making it effectively lighter so that the motor can do its job. If one of those springs breaks, the motor has to deal with the door's full weight, which it isn't made for! Using a garage door with a broken spring can damage the other components, or cause a dangerous accident. You should replace broken springs as soon as you know about them. Our garage door spring replacement services come the same day you call us, and our team will drive out to any address in Maplewood!
How Garage Door Springs Work
When lifting a garage door by hand, it doesn't seem very heavy. The only reason it appears to weigh so little is that the springs are already counterbalancing most of the weight. Try manually raising the same garage door without any springs installed, and see if you can manage it! The springs spend their time under enormous pressure, so it's no wonder that they wear out and need replacement every five to ten years. Unfortunately, that same pressure also makes garage door springs dangerous to handle if you're not a trained professional.
Don't Wait With A Broken Spring
With the risks that a broken garage door spring poses, you shouldn't leave one sitting in place for any longer than you have to. Call your local Maplewood professionals as soon as you're aware of the situation. If you want to save trouble, you can also replace your springs when they're about to break instead of after they've broken. All garage door springs come with an expected lifespan. If you keep track of how long you've had your springs, replacing them when their time is near spares you the inconvenience of a break. If you miscalculate your springs' durability and slip up though, it's not the end of the world. Just get the spring replacement completed as soon as you can.
Garage Door Spring Replacement Near You
Here at Garage Door Repair Maplewood, we work seven days a week and even on holidays providing emergency spring replacement and troubleshooting services. Give us a call, and our experienced technicians will be knocking at your door right away with your new springs and the tools to install them.